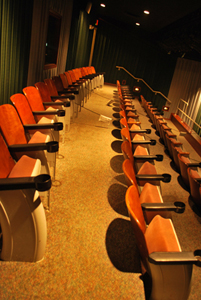 Palace Theatre, Vinton (06-00793).
Statewide Survey of Historic Movie Theaters
Documenting movie theaters throughout the state of Iowa is not a simple as one might think. The Preserve America project's goals included intensive level survey and evaluation of at least 200 movie theaters built before 1975. Initial research identified 472 theaters meriting field investigation and 118 already demolished. To narrow that list down, theaters were removed from consideration if they were already listed on the National Register of Historic Places, surveyed in the last 15 years, or were verified to be nonextant or having little integrity. Priority was also given to areas of the state that are underrepresented in the Iowa Site Inventory, such as western Iowa and the rural communities northeast Iowa. In the end, 221 properties were visited during the summer and fall of 2009, resulting in the intensive level survey of 207 theaters (109 previously not found in SHPO files).
The results of the statewide survey, including research and fieldwork, are presented in a National Register Multiple Property Documentation Form and on this website. The original survey forms and photographs will be integrated into the Iowa Site Inventory at the State Historic Preservation Office. As part of the Preserve America grant, one of the surveyed movie theaters is being nominated to the National Register of Historic Places. The Sioux Theater in Sioux Rapids was chosen due to its unique architecture, incredible integrity, and its preservation-minded owners, the Sioux Rapids Area Historical Association.