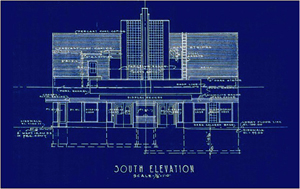 Elevation of the Hiland Movie Theatre, Des Moines (77-06211).
Iowa's Movie Theater Architects
Whether new construction or renovations of existing buildings, movie theaters have distinctive façades to beckon patrons from the street to the auditorium. The more elaborate the design, the larger chance there is that an architect was involved in its creation. Iowa's movie theater architects came from across the country and from our own backyard.
Some architects designed theaters for national circuits or chains. Rapp and Rapp, a Chicago firm nationally known for vaudeville theaters and movie palaces, designed the Orpheum theaters in Dubuque and Sioux City. Peacock and Frank, a Milwaukee firm with regional success, designed the Paramount theaters in Waterloo and Cedar Rapids.
Other architects were simply prolific within the property type. Minnesota architects Liebenberg and Kaplan designed or remodeled numerous theaters in the Midwest, including the Vista Theater in Storm Lake and the Fraser Theater in Spencer. Iowa's own Frank Wetherell and Roland Harrison's theaters are readily recognizable on main streets throughout the state.
Learn more about Wetherell & Harrison in "Homegrown Talent: Wetherell & Harrison."